Samsung Vertical Freezer RZ28h61507F
Samsung Vertical Freezer RZ28h61507F
₨ 112,999
Full Vertical Freezer
Net Total 277 Liter
Gross Total 306 Liter
Net Dimension (WxHxD)(mm)595 x 1800 x 684 mm
No Frost
Multi Flow
Number of Shelf (Total) 6 EA
Number of Door Drawer 5 EA
Icemaker Twist Ice Maker
Door Reversible
Door Alarm
Refrigerant R600a
Cyclopentane Insulation
Autonomy Hour (Temp rising)14 Hrs
Display & Control
Door Handle Easy Bar Handle
Color Refined Steel
Energy Efficiency ClassA+
Noise Level42 dBA
Climate ClassSN, N, ST, T
Cooling Capacity (kg/24h)17 
Energy Consumption325 kWh/year
Compressor Warranty: 10 Years
Out of stock
Compare
Frost-free freshness for your fridge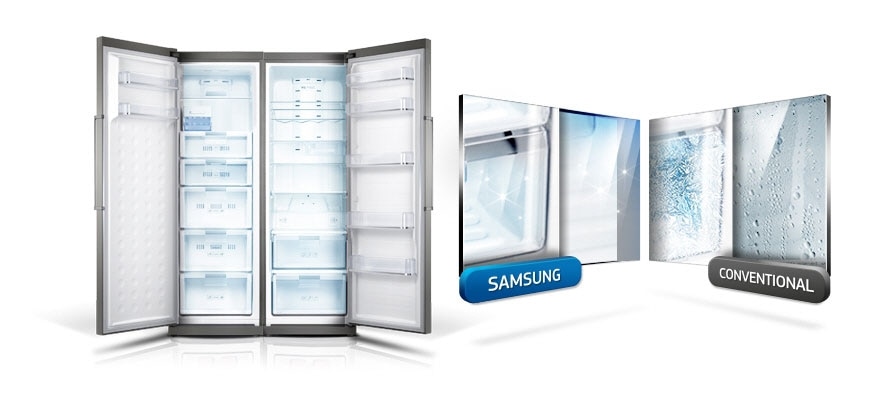 Routine defrosting of a refrigerator can now be avoided, and it's all thanks to Samsung's True No Frost technology. Perishable goods can now be kept fresher for longer with no fear of icy build-ups at the back, and with an even temperature maintained throughout, True No Frost demands less energy, which in turn increases the longevity of the cooling system.
Increased storage space
The new RR6000 makes it simple to keep as much food as you need in an organised fashion. With freezer and fridge space combining for a total capacity of 627 litres, there is more than enough room for food and beverages of all shapes and sizes. Enjoy the luxury of a one door fridge and freezer able to store more than any other.
Accessible freezer drawers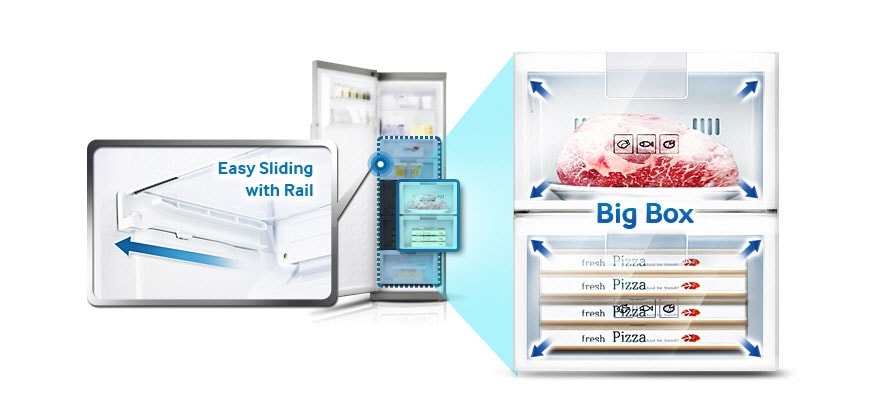 With drawers that extend out fully over sturdy sliding rails, freezer-drawer operation is a smooth process. There's no need to root around a cold freezer drawer to reach items buried at the bottom anymore.
Brighter LED lighting that saves energy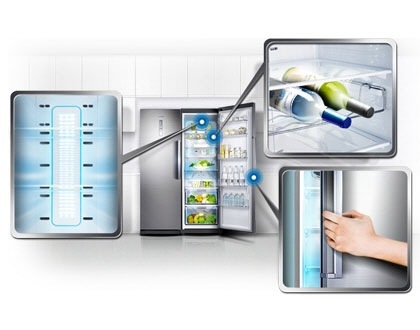 Groceries are lit up beautifully by stylish Tower LED lighting that illuminates the whole refrigerator, meaning you'll spend much less time staring into an open fridge hoping to find that one particular item. The lighting is designed to save space too, providing more space for food. Energy is saved too, with no heat emissions and greater efficiency than conventional bulbs.
Consistent cooling
Samsung's All-Around Cooling makes sure that the whole fridge is evenly chilled, with strategically placed vents to circulate cool air throughout both fridge and freezer. The consistent temperature keeps food fresher for longer, while the built-in Deodoriser keeps strong odours from spreading.
A sophisticated flexibility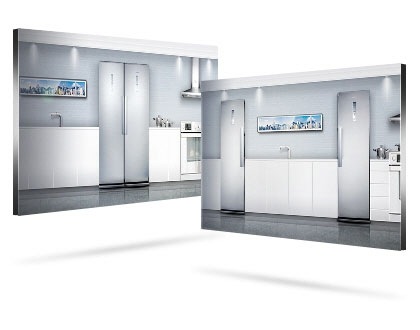 The new RR6000 1 door Refrigerator and 1 door Freezer boasts a brilliant versatility that helps it stand out from conventional side-by-side units. The refrigerator can be placed either side of the standalone freezer due to both having reversible doors that can easily switch to open to the left or to the right. This will help keep your fridge and freezer doors from swinging out into the room's entrance or hitting obstacles like nearby cabinets.
Digital Inverter Technology
Digital Inverter Technology ensures Samsung appliances are designed to be SMARTER, using less energy, making minimum noise and increasing longevity – all backed up by a 10-year warranty.

Movable Deli Bin
Dairy items and chocolate are readily available from this movable deli bin that fits between shelves.
Twist Ice Maker
Whether you're hosting a huge party or simply making a refreshing glass of lemonade for a hot summer's day, the Twist Ice Maker is on hand whenever you need ice. Just turn either of the two dials clockwise to dispense ice cubes into the brightly lit bin, which can be removed for easy access.
277 ℓ

Net Total(Litre)

595 

Net Width(mm)

1800 

Net Case Height with Hinge
Capacity

Net Total(Litre)

277 ℓ

Gross Total(Litre)

306 

Physical specification

Net Dimension (WxHxD)(mm)

595 x 1800 x 684 mm

Net Width(mm)

595 

Net Case Height with Hinge(mm)

1800 

Net Depth without Door Handle(mm)

645 

Net Depth without Door(mm)

568 

Packing Dimension (WxHxD)(mm)

653 x 1876 x 747 

Packing Width(mm)

653 

Packing Height(mm)

1876 

Packing Depth(mm)

747 

Net Weight(kg)

76 

Packing Weight(kg)

83 

20/40/40H (Container)

27 / 54 / 72

Cooling Feature
Freezer Feature

Number of Shelf (Total)

6 EA

Number of Door Drawer

5 EA

Icemaker

Twist Ice Maker

General Feature

Door Reversible

Yes

Door Alarm

Yes

Refrigerant

R600a

Cyclopentane Insulation

Yes

Autonomy Hour (Temp rising)

14 Hrs

Exterior Feature

Display & Control (Fridge and Freezer)

Yes (Freezer)

Door Handle

Easy Bar Handle

Colour

Refined Steel

Performance

Energy Efficiency Class

A+

Noise Level

42 dBA

Climate Class

SN, N, ST, T

Cooling Capacity (kg/24h)

17 

Energy Consumption

325 kWh/year