Samsung 12 KGWashing Machine WD12J8420GX
Samsung 12 KGWashing Machine WD12J8420GX
₨ 205,000
Washing Capacity: 12 Kg
Drying Capacity: 8 Kg
Body color: INOX
Door: Crystal Blue
Panel Display Color: LCD
Spin Speed 1,400
Bubble technology
Motor: BLDC
VRTVRT Plus
Prefer Mode
Language Setting
Smart Check
Child Lock
Delay End
Drying Time selector
Baby Care
Cotton
Daily Wash
Deodorization
Eco Drum Clean
Outdoor Care
Rinse + Spin
Specialty Cycle
Super Eco Wash
Synthetics
Wool
Additional Cycle Sanitization, Cotton Dry, Synthetics Dry
Option ListPre Wash, Intensive, Soak, Easy Iron, Quick Wash, Delay End, Prefer Mode
Net Dimension: (WxHxD) 600 x 850 x 600 mm
Net Weight: 82 Kg
Gross Dimension: (WxHxD) 676 x 890 x 711 mm
Gross Weight: 85 Kg
Voltage/Frequency220 V / 50 Hz
Out of stock
Compare
12 Kg Large Capacity
A huge 12 Kg capacity lets you wash piles of laundry in a single load. With less time taken up by chores, you can enjoy precious extra time all for yourself.
Wash Cool, Save Energy
Save a huge amount of energy by washing at low temperatures using Eco Bubble™ technology*. Bubbles dissolve and activate the detergent, so it quickly penetrates fabric – washing effectively in cool water (15 °C).
* Tested in accordance with IEC 60456-2010 / 4 Kg Wash Load / Super Eco Wash cold (WF80F5E5U4W) vs. Cotton 40° without Eco Bubble (WF0702WKU). Individual results may vary.
Sanitize Your Clothes with Air
Air Wash technology deodorizes and sanitizes your clothes, so they always smell fresh. Using just heated air, unpleasant odors are removed and bacteria eliminated without using water, detergent or other chemicals.
Open Wider. Unload Easier.
A full-width door, with a Metal Double Hinge that opens wider, makes it significantly easier to load and unload clothes. Its minimal frame and translucent, Crystal Blue finish fit perfectly within a modern space.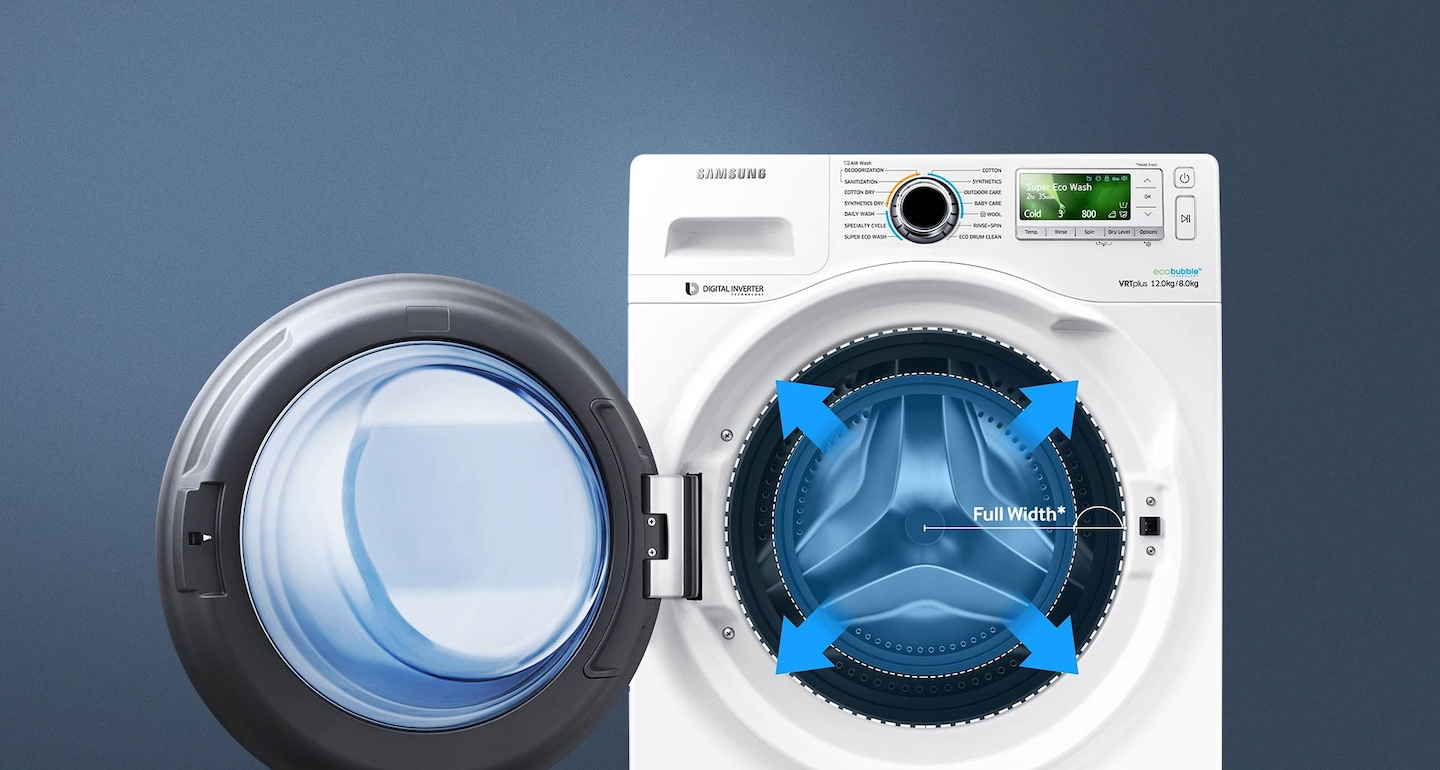 Quiet, Fast, Efficient? You Choose
With Eco Wash, Speed Wash, or Silent Wash options you can pick the one best suited to your needs. Reduce your energy bills and be environmentally friendly, or wash clothes in a hurry, or enjoy some peace and quiet.
Less Noise, Less Vibration
VRT Plus™ technology reduces noise and vibration during washes.* The 3 Dimensional Vibration Sensor of the VRT Plus ™ keeps the drum perfectly balanced even at high spin speeds, minimising noise and vibration.**
* Compared to Samsung conventional washing machine without VRT feature ** The actual noise / vibration level may be different by the operating environment.
Guaranteed Durability
A Digital Inverter Motor delivers superior energy efficiency, minimal noise and exceptionally long-lasting performance, so it's certified to work for 20 years* – backed-up by a 10 year warranty.
* Awarded a 20 year durability certification by the Association for Electrical, Electronic & Information Technologies in Germany (Verband Deutscher Elektrotechniker – VDE).
Expert Cleaning for any Stains
6 Specialty Cycles are washing programs that are specially designed to remove different types of hard to clean dirt and stains, such as grass and grease, without any professional knowledge or complicated settings.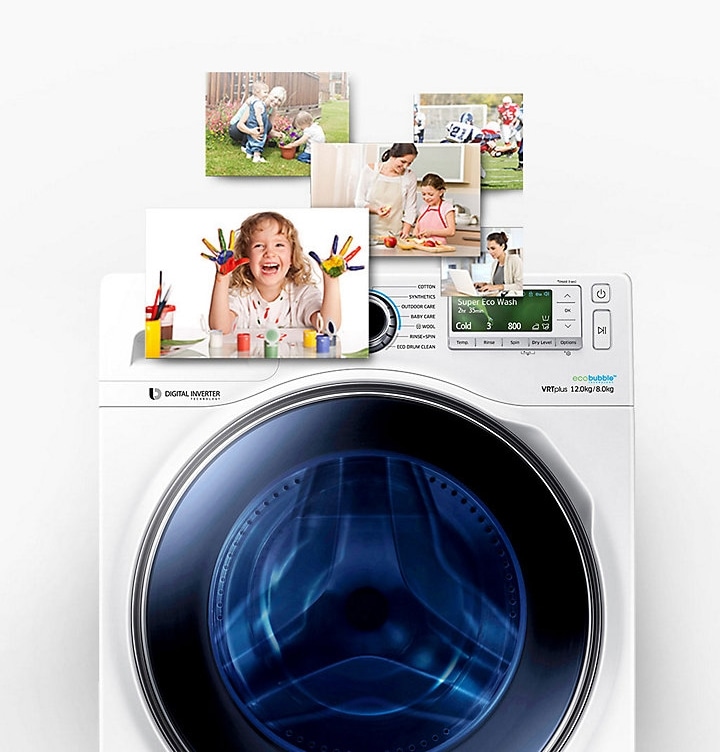 Durable and Wide Opening Hinge
The Crystal Blue door has a Metal Double Hinge that opens wider and last longer. It's metal construction makes it more durable and it opens out 170°, so it's almost flat, making it easier to get laundry in and out.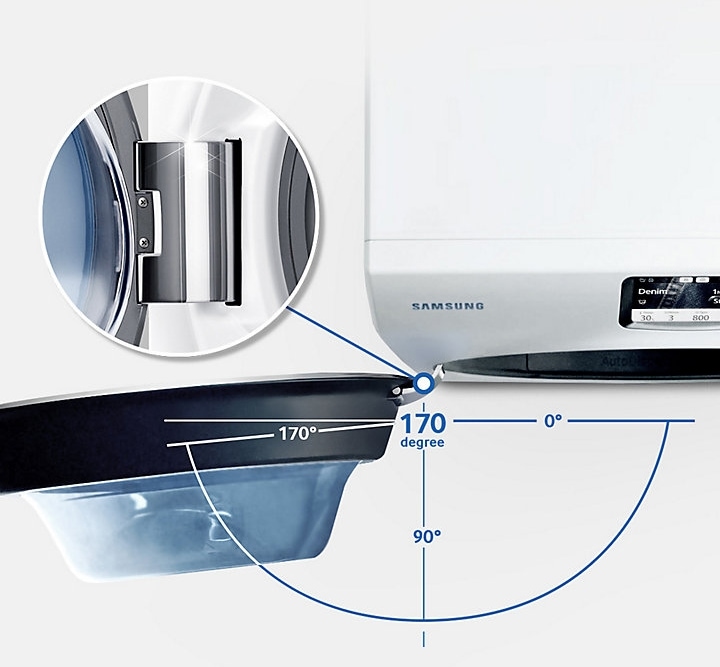 Easy Trouble-Shooting
The Smart Check automatic error-monitoring system detects and diagnoses problems and provides easy troubleshooting solutions using a smartphone App.* So it saves you time and avoids the cost of engineer callouts!**
* Available on iPhones and Android devices. ** Service callouts will occasionally be required and may incur extra repair costs.
Chemical-Free Drum Sanitization
For the ultimate in convenience, Eco Drum Clean technology keeps your front load washer fresh without using harsh chemicals. And it can even notify you automatically when it needs cleaning.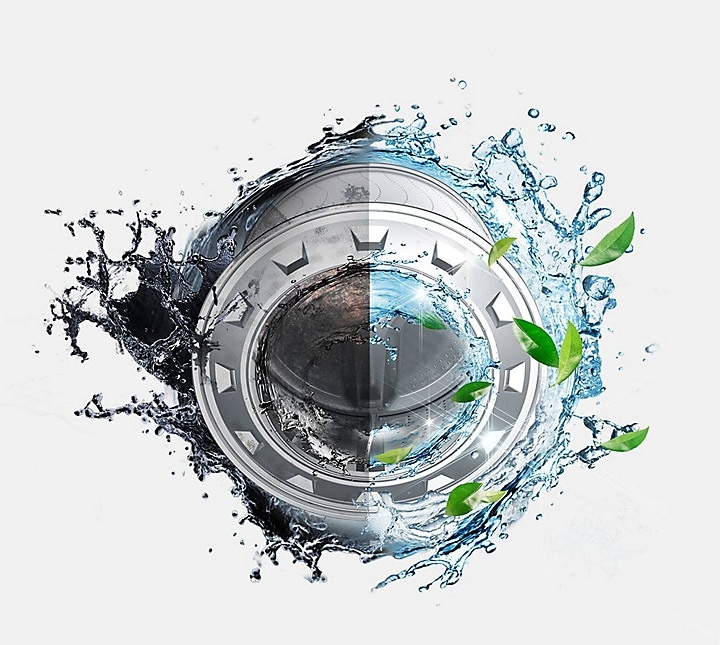 12 Kg

Washing Capacity (kg)

Bubble technology

Bubble technology

VRT Plus

VRT

600 x 850 x 600 mm

Net Dimension (WxHxD)
Washing Capacity

Washing Capacity (kg)

12 Kg

Drying Capacity
Design

Body color

INOX

Door

Crystal Blue

Panel Display

Colour LCD

Feature

Spin Speed

1,400

Bubble technology

Yes

Motor

BLDC

VRT

VRT Plus

Prefer Mode

Yes

Language Setting

Yes

Smart Check

Yes

Child Lock

Yes

Delay End

Yes

Drying Time selector

Yes

Cycle

Baby Care

Yes

Cotton

Yes

Daily Wash

Yes

Deodorization

Yes

Eco Drum Clean

Yes

Outdoor Care

Yes

Rinse + Spin

Yes

Specialty Cycle

Yes

Super Eco Wash

Yes

Synthetics

Yes

Wool

Yes

Additional Cycle

Sanitization, Cotton Dry, Synthetics Dry

Option List

Pre Wash, Intensive, Soak, Easy Iron, Quick Wash, Delay End, Prefer Mode

Physical specification

Net Dimension (WxHxD)

600 x 850 x 600 mm

Net Weight

82 Kg

Gross Dimension (WxHxD)

676 x 890 x 711 mm

Gross Weight

85 Kg

Voltage/Frequency

220 V / 50 Hz